Project budget and statistics
386 links
₽ 46 556
The project was launched before the introduction of Tariffs, with a fixed budget of 5,000 rubles, but was raised to 10,000 rubles from the second month of campaign activity. For six months of promotion with crowd links, a budget of 46,556 rubles was spent and 386 links were installed on donor sites.

The average cost of a link is 120 rubles.

For 6 months, out of 386 crowd links placed, 49 were removed, i.е. a little over 10%. Index of links indexed by search engines
Donor sites index the purchased crowd links quite effectively - you can see it on the screenshot of the project statistics.
Google indexed 272 links, Yandex indexing indicators are not significant for the project, because it is focused on the US market.
Growth of search traffic by 9x in six months

Growth of direct traffic from sites-donors of crowd links by 4.5x in 6 months

The growth of site visibility for key queries was 31%.
What we did - campaign settings
The campaign settings made it possible to purchase crowd links without limiting the domain zones of donor sites.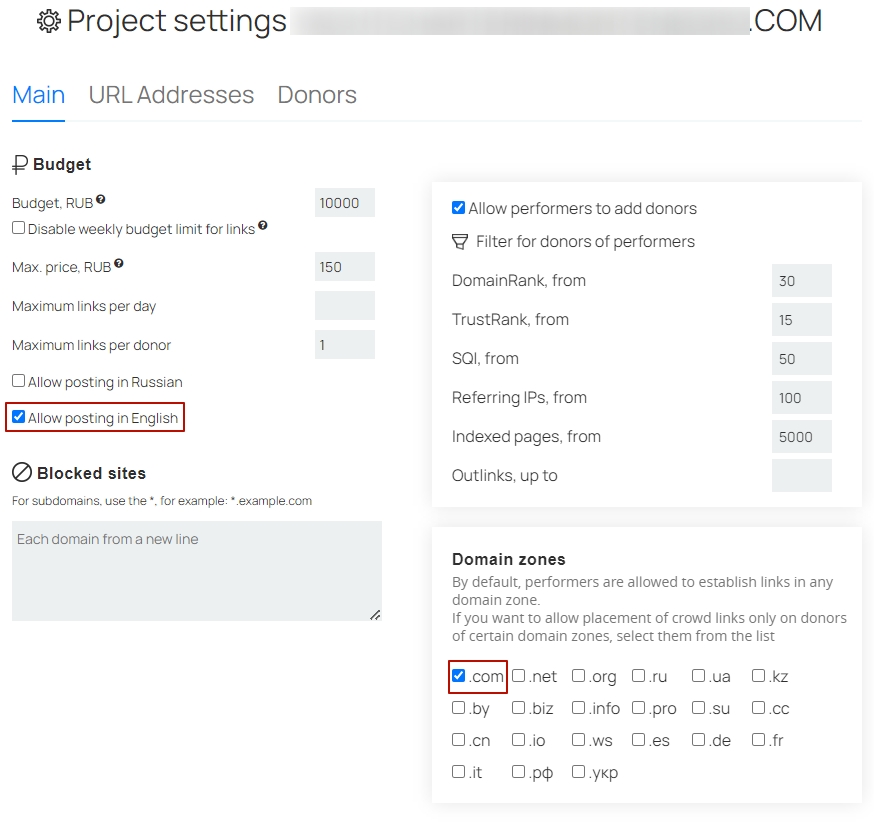 Conclusions
It was difficult, but we managed. Promotion in the English-speaking segment is a relatively new task for us. First of all, the difficulty was in the language barrier of some of our link builders, because of which we had to additionally coordinate the correct "American" turns of speech with the Customer. And then teach our Performers to use them correctly so that the reviews and comments they write look as organic as possible. And the search for almost 400 sites for placement is also not easy. But we are grateful for such an experience and look forward to new tasks "to the West"!